Today's review is on Illuminae by Amie Kaufman and Jay Kristoff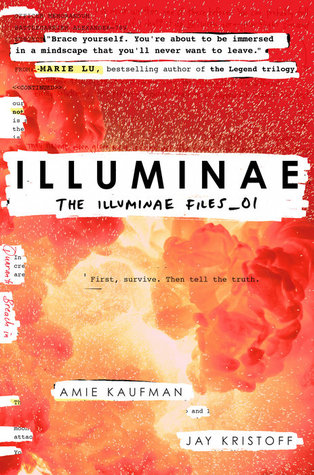 When I first heard about Illuminae it became an instant anticipated release for me. I finally got a chance to read it over my Christmas break and I loved it! It finished it in 3 days and it is 600 pages long!
The book itself is beautiful, it is set out in a creative way of letters, Instant Message chats, surveillance footage, etc. And there is some awesome artwork throughout the pages, it is really cool novel and definitely not the kind of book you can read on a Kindle!
The plot was brilliant! If you are a fan of Star Wars, Dr. Who and even 2001: A Space Odyssey you will probably enjoy this book. The book takes place 500+ years in the future and it tells the story of a boy and girl whose planet is destroyed and they find themselves aboard two spaceships with the other survivors. However, this is only the beginning of the story so much happens in this book that I can't talk about because it would be a major spoiler, but it just kept getting better and better as I read it. There were so many thrilling twists and turns that kept popping up, a major one being at the end of the book (!). This book is a roller-coaster ride and I can't wait for the release of the sequel, Gemina, later this year, I need to know what happens next!
I enjoyed getting to know the two main characters, Ezra and Kady and how their stories intertwined, I even just loved how the authors showed how they were affected by the destruction of their planet.
However, there were a few things that I didn't like about Illuminae that I know other readers might have a problem with too and that was the presence of cuss words, even though they were censored out, and some sexual innuendos that made me feel uncomfortable. If it were not for these two things I would be giving this book 5/5 Stars.
I am giving it a 3.95/ 5 Stars because I know it isn't the kind of book I can recommend to everyone. But if the above two issues don't bother you and you love Sci-Fi I highly recommend this book.
Happy Reading,
Janelle L. C.
P.S. If you have any book recommendations let me know and I will check them out! :)