Today's review is on Red Queen by Victoria Aveyard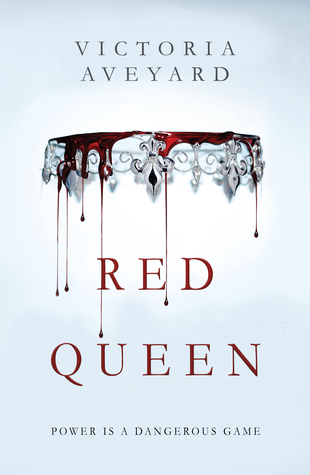 When I first picked this book up I was a bit nervous because it had a lot of mixed reviews so I kind of went into it with low expectations. Now that I have finished reading it, all I can is WOW! I loved it so much and I can't wait to get my hands on the second book.
Red Queen is a mix of dystopian and fantasy mixed together. It takes place in a post-apocalyptic world and the people are divided into the Reds and the Silvers. The Reds are the commoners who have red blood and they are ruled by the Silvers. The Silvers have silver blood, which also gives them special powers, so I guess you could say it is kind of like X-Men, except they aren't ostracized for having powers. The story starts with main character Mare Barrow who goes to the king to try and save her best friend, Kilorn from conscription, however in the presence of the king and other royals, she finds out she too possesses silver powers even though she is a Red. She is then forced to act like royalty and a lot of other stuff goes down after her discovery.
I loved the characters in this book, I loved Mare's development as she discovers more about the Silver world. I enjoyed the story development and the twist that happened near the end that I was not expecting, it was so intense!
The only thing I didn't like about Red Queen is that if I glanced over a couple of words further down the page I was super confused by what was happening and I had to go reread the page. This is probably a good thing because it forced me to pay attention every small detail of this book.
I highly recommend this if you loved the Hunger Games, Divergent trilogy, or the Throne of Glass series. This was a clean, action-packed, intense read and I can't wait to read the second book, Glass Sword, which came out on February 9th this year.
I am giving this book 4/5 Stars because it kept me entertained and for the major plot twist near the end. This was a great debut novel from Victoria Aveyard, I can't wait to see what else she ends up writing.
Happy Reading,
Janelle L.C.
P.S. If you have any book recommendations let me know and I will check them out! :)
Follow my blog with Bloglovin