Today's review is on The Small-Town Brides Romance Collection by Various Authors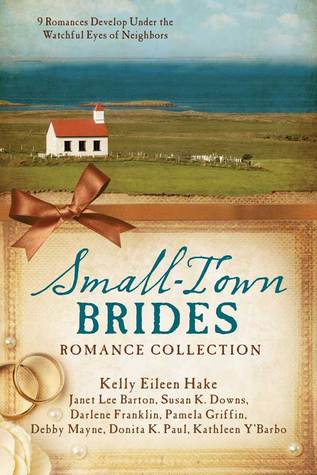 This was a collection of nine novellas by nine different authors. As I have done with previous novella collections, I am going to do a brief review of each novella and then an overall review of the collection. So let's get started.
Run of the Mill by Susan Downs:
This was a cute romance with blunders between the two main characters along the way. I loved how Kathleen and Maxwell started off as complete opposites and how Kathleen kind of inadvertently changes Maxwell for the better. However, not much happened plot wise. 3/5 Stars.
A Second Glance by Kathleen Paul:
This story is connected to the previous novella because Lucas is Maxwell's brother. There wasn't a whole lot that happened in this novella, and there wasn't really explanation for why the two characters fell in love with each other. However, I did love how spunky Ginger Finnegan was! 2.5/5 Stars
The Caretaker by Kelly Eileen Hake:
This was linked to the previous two stories because it deals with several characters that were mentioned in them. There were several things I liked about this story, the first being that I loved the tension between Amy Ross and Taylor Samuels and the reason behind it on both sides. I also loved how it was both a tale of romance and also one of forgiveness. The characters in the previous two novellas have cameo roles and I was sad to see these characters go. 4/5 Stars.
Leap of Faith by Pamela Griffin:
This was an okay story. It was kind of slow moving and didn't really interest me and it took me a while to get through. I also felt that Amanda came across a little bit too forward. 2/5 Stars.
A Blessing for Beau by Darlene Franklin:
I liked this story, even though Beau frustrated me because he was so proud and arrogant and didn't want to accept help from anyone. I loved how both he and Ruth are just as stubborn as each other, especially in her insisting on making new clothes for his niece Dru (mild spoiler!). I enjoyed seeing a romance developing between the two of them, and I really loved the town of Calico and I want to get to know some of the characters a bit more. 3.5/5 Stars.
American Pie by Debby Mayne:
This was another cute romance. I loved how Hank Ellis and Sophia Mayhew were perfect for each other and how they had to wait for things to work out in order for them to be together. Sophia's parents really annoying, but I loved Dora the housekeeper, she had such sage advice for Sophia. I also enjoyed the romance that developed between Hank and Sophia and how Sophia realized she couldn't marry the man that everyone wanted her to marry (mild spoiler, but it is kind of obvious). 4/5 Stars.
Victorious by Kathleen Y'Barbo:
I loved how this was not just another love story, it also involved a little bit of crime solving and mystery that made it very interesting. I enjoyed getting to know the couple, Victoria and Gus and I want to find out more about the other couples that met each other before the start of this novella. I also wish this had been longer. 4/5 Stars.
Language of Love by Janet Lee Barton:
This was a cute story about a World War I soldier and a school teacher. I enjoyed seeing Nicolas realize that Suzette wasn't his enemy (I can't say why because it is a spoiler). Suzette was also a cute character that I was rooting for the entire time. Not a whole lot happens but just enough that it held my attention. 3.5/5 Stars.
A Shelter from the Story by Marjorie Vawter:
This story was about a World War I medic and nurse who return home during the ravages of the Spanish Influenza. I really enjoyed seeing how Nelson and Mildred worked together and I believe that it was a great picture of how true love should be. 4/5 Stars.
Overall, I enjoyed all of these novellas, except for one and that was probably my fault because I took a long break in the middle of it. I am giving this whole collection 4/5 Stars because I enjoyed the stories a lot.
I would like to thank NetGalley and Barbour Publishing for providing me with an Advanced Reader Copy of this collection in exchange for my honest review.
Happy Reading,
Janelle L. C.
P.S. If you have any book recommendations, let me know and I will check them out! :)