Today's review is on The BFG by Roald Dahl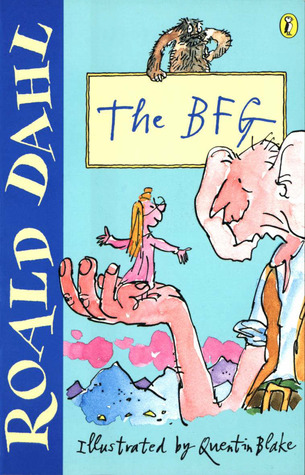 I loved this book and it brought back a lot of memories from when I was a kid. I've loved Roald Dahl's writing since I was about 6 and read one of his picture books, The Enormous Crocodile. My favorite book has to be Matilda, in fact that is probably one of the books that made me fall in love with reading as a kid. It is also probably one of the reasons I have a warped sense of humor.
The BFG was a fun, quick read, however as an adult I realized how dark Roald Dahl's books can be - there is definitely a lot of dark humor in this one. However, as a child I was never scared of the giants in this book, I think because I realized that they were made up.
This book tells the story of an orphan Sophie, who is up late one night and is abducted by a giant. However, it turns out she was taken by the Big Friendly Giant (BFG for short) who is the only nice giant. Throughout the novel she learns about the brutal giants and just how sinister they are (especially since they eat people). In the end, however, the giants are captured.
As I mentioned before, I loved this book! Roald Dahl has this way of making his villains truly revolting without giving people nightmare. This is going to sound kind of morbid but I liked the different descriptions and reason why the other giants ate "human bean" from various countries, it's just interesting how the author came up with all these different reason and one has to have a great, and somewhat warped, imagination to come up with something like that.
I loved how the BFG mixed up his words and saying, and even some of the letters in the words. I knew what he was saying, but it definitely added to the humor in the book. I also enjoyed seeing him become friends with Sophie, who hasn't really had any friends before meeting him.
Even though this book is kind dark it does, in typical Roald Dahl fashion, have a happy ending, which will make readers happy. I can't wait to watch the movie that came out this month, I only hope it does the book some justice.
I recommend this book for all ages, however parents should use their own judgment as to whether or not they want their kids to read this book, because it does contain quite a bit of dark humor. However, Roald Dahl's writing definitely enchants readers no matter what age they are!
I am giving this book 5/5 Stars because I enjoyed reading it because I was filled with laughter and nostalgia the whole time.
Happy Reading,
Janelle L. C.
P.S. If you have book recommendations let me know and I will check them out! :)