Today's review is on The Heart Answers by Colleen Coble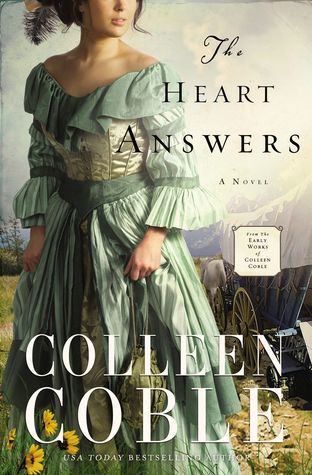 This is kind of the first Colleen Coble book I have read, I say kind of because I read her novella Set Sail My Heart about two years ago. I didn't realize that this was the third book in a series, even though it can be read as a stand alone it does mention several characters from the previous two books. Also, the first two books have been divided into 6 novellas and is now called the Journey of the Heart series, which I am planning on reading in August/September.
The Heart Answers tells the story of Jessica DuBois, who is spoiled and mean-spirited. However, when her father dies, she moves to Fort Bridger when her mother remarries and her life is turned upside down because she forced to get her hands dirty. However, she meets the young Reverend Clay Cole, who has come to escort his late cousin's wife and cousin to Fort Bridger. Jessica immediately notices him and tries to use her wiles to gain his attention and to break his heart, but he sees through her plan. However, through various circumstance they start to get to know each other.
I really enjoyed this story, I loved watching the romance develop between the two characters (spoiler, but it is kind of an obvious plot point). I also liked watching the two of them grow. There wasn't a whole lot of action, but the pace of the novel was really good.
Jessica was an interesting character, especially since she grows a lot over the course of the novel. At the end her outlook on life is almost completely different. Clay was also a good character, but sometimes I felt like he came across as too arrogant and proud and judgmental, probably more so than I would expect from a pastor, but then again I feel like it also shows his humanity. I also loved Ellen and Franny - Clay's cousin's wife and daughter- even though they were side characters that still had an effect on the plot because two of the major events that take place involve these two characters. Franny also helps contribute towards Jessica's change of heart.
I also liked how it showed Jessica struggling to find her place among her new family, even though they are her uncle and cousins, and I enjoyed seeing her become closer to them once she started maturing and changing.
I also liked the historical aspects of the novel, I believe it is set after the Civil War. It also takes place in Wyoming, so that is also very interesting.
As I mentioned before, I really liked this novel and I am looking forward to reading more of Colleen Coble's works, especially the Journey of the Heart novella series. I am giving this book 4/5 Stars because it was a nice, light read and I enjoyed the plot.
I would like to thank NetGalley and Thomas Nelson Publishers for providing me with an Advanced Reader's Copy of this book in exchange for my honest review.
Happy Reading,
Janelle L. C.
P.S. If you have any book recommendations let me know and I will check them out! :)