Today's review is on Glass Sword by Victoria Aveyard (Note: If you haven't read Red Queen yet there are a few spoilers in this review)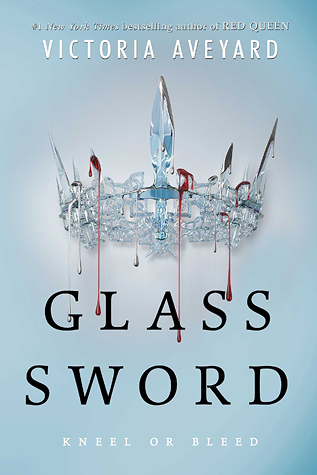 I really loved Red Queen, even though it didn't get the greatest reviews on GoodReads, and I was really excited to read this second installment in what seemed like a great series.However, I was really disappointed by the first half of this book and I almost did not finish it because I was disappointed.
Firstly, it started off really slow, and then nothing really happens for almost 200 pages! I ended up taking a break from reading this for about a week because I started going into a reading slump and I really wanted to read something else. However, when I started reading it again, the plot started to pick up at the 200 page mark and I got really into it. Therefore, try to hold out until about halfway because that is when all action starts to happen.
Glass Sword picks up several hours after the ending of Red Queen. Mare and Cal have joined up with the Scarlet Guard and are on the run from King Maven and his mother. However, Mare still can't get over the fact that Maven tricked her in the previous book. She also goes looking for others that are like her, Reds who have the powers of a Silver, "newbloods."
I liked meeting all the new characters and seeing how some of them were developing over the course of the novel. Mare also kind of grows, except she is still obsessed about who she thought Maven really was, compared to the tyrant he turned out to be. I don't know if Victoria Aveyard meant to do this, but near the end of the book I started to really not like Mare, maybe it was just me, or maybe it is setting the reader up for what happens in the next book.
There is not really any romance, all though there kind of is a love triangle/quadrangle...it is kind of annoying, but it kind of makes sense at the same time. I guess I will have to wait until the third book to come out next year to find out what happens.
I also enjoyed the world-building in this installment because it takes place in so many different places that had not been explored in the previous book. However, there were times it was kind of an overload of information because there are so many places visited in this book.
I do want to continue with this series, even though this book was kind of a disappointment, but after the cliffhanger at the end, I have to find out what happens next.
I am giving this book 3.25/5 Stars because even though I enjoyed the last half of this book, I was disappointed by the slowness of the beginning. The second half is really the redeeming point of this novel.
Happy Reading,
Janelle L. C.
P.S. If you have any book recommendations, let me know and I will check them out! :)