Today's review is on Between Shades of Gray by Ruta Sepetys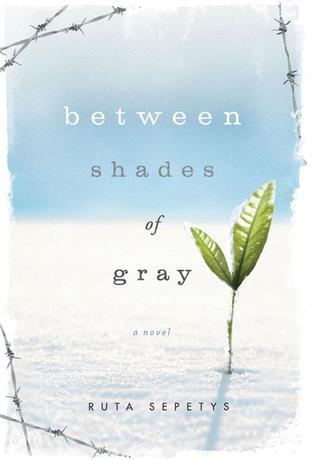 This book was so good! It tells the story of the deportation of Lithuanians to Siberia by the Soviet Union during World War II - a piece of history that I had never heard about until I read this book. Not since I first read The Diary of Anne Frank have I been moved to tears from the very beginning of a book.
The novel starts in 1941 and fifteen-year-old Lina is a normal teenage girl. However, one night the Soviets come to her family's house and she is forced, along with her mother and younger brother, to get onto a train filled with their fellow Lithuanians. They are eventually taking to a work camp in Siberia where they forced to farm for the Soviet soldiers. Meanwhile Line tries to find some comfort in her art by documenting the harsh conditions that she faces, as well as tries to make contact with her father, who is in a different prison camp.
Between Shades of Gray was a captivating read, especially since, as I've mentioned before, it covers a piece of World War II that no one really knows about or talks about. It shows how harsh and cruel the Soviets were to those who dared to speak out against them during this volatile time.
I enjoyed reading the events from Lina's point-of-view because it made it seem more real. I also liked that throughout the story, the author jumps back to certain scenes from Lina's past in order for the reader to understand why Lina is reminded of certain things and even as to how her family ended up in the prison camps.
I gave this book 5/5 Stars because it is captivating and I read it in one sitting because I could not put it down! It was so good especially because even though it historical fiction it deals with a piece of history that is unknown by the vast majority. It is beautifully written and it is just a fantastic read!
Happy Reading,
Janelle L. C.
P.S. If you have any book recommendations let me know and I will check them out! :)