Today's review is on Passenger by Alexandra Bracken.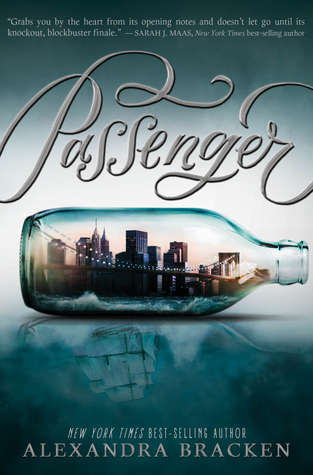 I received an advanced reader copy of this book from Netgalley and Disney-Hyperion.
First off, this was the first book I have read by Alexandra Bracken and I look forward to checking out more of her books in the future.
Passenger was interesting, especially since I haven't read many time travel novels before. It tells the story of Etta living in modern day New York who discovers that she can time travel. She has to find a particular object in a different time using clues that have been given by her mother. Along the way she also meets Nicholas, who can also time travel.
I loved the descriptions that the author uses to describe the various places that the characters travel too, as well as the whole time travel aspect. However, I am still a little bit confused by how the characters were able to time travel. There were also other things that I didn't quite understand.
The characters were okay, not great, just okay, however after thinking about it more I can kind of understand Etta a bit more than I thought I did. Nicholas was good, but there was nothing really about him that made me want to love him as a character.
However some of the stuff that I did not like about Passenger might be my own fault because I was in the middle of a reading slump when I read it. I do want to read the next book in the series because I really want to find out what happens to Etta after that cliffhanger of an ending.
I am giving this book 3/5 Stars because it was good but not great.
Thanks again to Netgalley and Disney-Hyperion for giving me an advanced copy to review for my honest opinion.
Happy Reading,
Janelle L.C.
P.S. If you have any book recommendations let me know and I will check them out! :)